Margate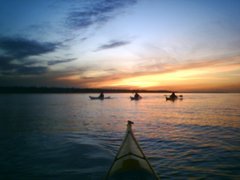 On Saturday a group from THCC headed for the north Kent coast and after a bit of car shuffling set off from the beach in front of the Continental Hotel in Whitstable at 12:15. We could not have asked for much better weather, given the time of year: the wind was a gentle south westerly of about force 2 and the sea was calm. We also had the ebbing tide helping us along and made quick progress despite an unhurried pace.
Our first stop was to explore the remains of the pier about 1 km off-shore Herne Bay, we then paddled on, landing on the beach just to the east of the ruined church towers at Reculver for lunch. After lunch we made for Margate and got there in the dark at about 16:45 having enjoyed a spectacular sunset behind us with the silhouette of the ruined church towers adding a dramatic element to the view.
Total distance was about 25km.