Sea kayaking skills course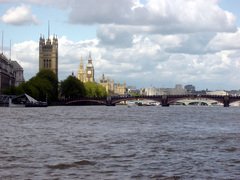 I did a sea kayaking skills course at the weekend with Shadwell Basin through THCC.
We spent Saturday morning on the basin learning some skills and strokes specific to sea kayaking before a classroom session over lunch introducing some navigational and trip planning considerations. We then spent the afternoon getting wet and practicing rescues.
On Sunday we kitted out our boats and headed up the river from Shadwell Basin to Vauxhall, stopping to practice some backwards ferry gliding in the strong current under London Bridge. On the way back we tried some towing (hard work against the tide). We finished with an all-in rescue practice back at Wapping and then a wet exit, swimming the boats in to the steps as the high spring tide meant there was no beach to land on.
The course has made me realise that my paddling skills, learned on white water twenty years ago, need more updating than I realised and it has given me several areas to work on. On the plus, side I felt I had really got the hang of edging by the end of the weekend and was able to use this technique very effectively to make minor course adjustments without the need for corrective strokes.