Cwm Pennant Sea Kayaking Festival
When I first read about sea kayaking symposia I was so intrigued by the concept that I booked myself in to the next one on the calendar, at Cwm Pennant mountain centre in North Wales.
The format was a weekend of paddling and lectures and I was particularly looking forward to trying some proper sea kayaks which were provided for demonstration by several manufacturers.
Saturday morning started off with a lecture about the Lleyn Peninsula and Sarnau Special Area of Conservation (SAC) which gave some guidance on identifying the various forms of wildlife we could expect to encounter and then challenged us to consider how, as kayakers, we could help with the conservation project.
We then set off for Pwllheli where a sheltered beach (accessed via the marina) was the venue for trying out some kayaks. The sea kayaks I had paddled to date have been plastic tubs so I was delighted to get my hands on the real thing and tried several:
P & H Quest - this boat came with a lot of good recommendations from people who said it was both fast and stable and sitting in it the first things I noticed were the comfort of the seat and back rest assembly and the quality of the construction. The boat was certainly stable and there was no evidence of the tippiness that sea kayaks are famous for. It paddled well but even with the slight breeze in the sheltered bay I had to use the skeg or the odd corrective stroke to keep it in a straight line across the wind (I am sure it would have handled better with a load).
P & H Capella - this boat felt very similar to the Quest with the same comfortable seat and good build quality but it was harder to keep in a straight line with a much greater tendency to weathercock (I paddled the large version of the boat and the foredeck seemed very high).
P & H Sirius - this was not a demo boat but a six year old kayak whose owner kindly let me try it out, despite its age, it looked like new and had the same creature comforts as the demo boats. Sitting in this kayak I immediately felt at home in the snug fitting cockpit and the ride was the most positive and straight running of all the boats I tried. The boat was also the most tippy and I can imagine that to be confident twisting around to get a camera out of the day hatch, for example, might require some improvement in my balance.
P & H Bahiya - I only had a very brief paddle in the Bahiya which, in spite of its narrow hull, felt very stable. It also went beautifully in a straight line and seemed very popular with all those who tried it. My only reservation was that I do not like the idea of having to sit on one side or the other of the hard chined hull in anything but calm water.
Nigel Dennis Explorer - this was the boat I ended up paddling all weekend and as a boat to paddle I loved it. It went nicely in a straight line, it did not have a skeg , nor did I ever feel the need of one, it was fast (I always tended to find myself at the front of a group without any particular effort), cut through waves cleanly and, although it was slightly tippy, it gave me plenty of confidence.
I did have some problems with the comfort of the boat though. The seat and back rest were nowhere near as comfortable as in the P & H boats and I found that my size eleven feet were a bit cramped under the deck (this might have been partly due to the custom positioned forward bulkhead which was obviously made for a shorter paddler). Finally, the build quality did not seem to be quite up to the P & H standard although, unlike the P & H boats on demo, this one was not new so that may not be an entirely fair comparison.
There were also some Rockpool kayaks on demo but I did not get a chance to try one out. I had an interesting chat with the designer and founder of this new company who started his career with Nigel Dennis shaping the Romany. The boats are designed for a more ergonomic paddling position which is somewhat akin to a racing kayak but, apparently, without sacrificing stability. Those who did try the boats seemed impressed.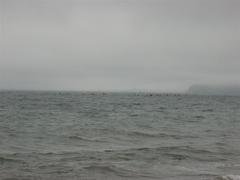 After the boat demos and lunch on the beach we split up into groups to work on paddling skills and rescues and the bulk of us went out on a paddle westward up the coast.
Unfortunately, I had set off in a hurry with the Explorer I had just borrowed and after only about twenty minutes my right leg had gone completely numb and I was suffering painful pins and needles. I decided to head in to the beach and pick up the group again on their way back. This gave me a chance to try my first surf landing which worked reasonably well. Once out on the beach I found that there was in fact a thick piece of foam wedged up against the front bulkhead and when I removed it there was just enough room for my long legs. I had a walk on the beach and rejoined the group on the way back timing my first surf launch perfectly.
After paddling we headed back to the centre for a very welcome dinner followed by a couple more lectures.
The first talk was by Dave Evans who runs Cwm Pennant and is also the chairman of the BCU Sea Touring Committee. He showed us some slides of a recent trip to Brittany and we were all envious of the beautiful scenery and fine weather.
The second lecture was by John Ramwell who talked about his experiences setting up large scale expeditions for organisations such as British Schools and Operation Raleigh. He told us how satisfying he had found introducing young people to sea kayaking and encouraged us to consider doing the same.
Following the evening programme we gathered around a bonfire to share kayaking tales and beers.