Deptford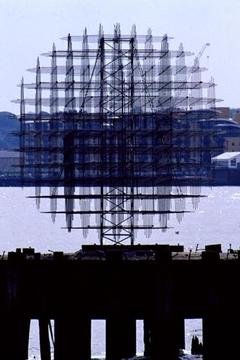 An abbreviated paddle this week, to Deptford as we were taking some newer paddlers on the river in short boats.
We stopped at this sculpture which I have paddled past many times before, always meaning to find out more about it. According to one of the more knowledgeable members of the group last night it represents Sir Francis Drake's circumnavigation in 1577-80, the route of which is marked with red dots (only visible to us kayakers who can paddle right up to it). Drake was knighted at Deptford Docks by Queen Elizabeth I.
A little Googling reveals that the sculpture is by the artist Chris Marshall.